This past Sunday, I got the chance to drive up to Louisville to ride the Ironman course. All in all, it was a really good trip, although it ended up being a lonely trip by myself. But, before I get to Louisville, I'll give you a little update on Caffrey. (Heads up. Sorry for the long post!)
Jennifer and Caff are currently on a trip with Mimi, Jenn's mom, to Branson, MO. They have tried to do a mother-daughter trip every year, and so this year, they decided to go to Branson. I think they are having a blast, although being a bachelor isn't as fun as it sounds when you've got an incredible family you COULD be with. Yesterday, Caffrey was back in the pool. Jenn said he just kicked and kicked and kicked. That's my boy! I think he's training for his first triathlon.
Working on his Swim...
Working on his aero position on my bike. I think he needs a smaller size...
Now if he can just start crawling and then walking and then running, he'll be a triathlete! He's also been working on his skillz with the ladies. He's obviously got eyes for a sweet little girl that is only a few weeks old. She's beautiful, and Caffrey obviously LOVES Abigail!
We try to get together with the Kingery's every couple weeks. It's really cool to see how God put these two families in the same place at the same time. Jenn and I talk about how blessed we are with such fantastic friends.
On Friday, I got out to do my long run. I have been feeling pretty awesome on the bike and in the pool, but I've been super nervous about running a marathon after all that. So, heading out on my long run was very intimidating. I ran a new route, and I think I had one of the best runs of my life! It was awesome! I ended up with this:
15 miles at 8:52's is really good for me. At 13.1, I actually was a minute faster than my half-marathon PR. Granted, I had a fairly easy week of training, so my legs were pretty rested, AND I left at 7:30am, so it was cool. Still, I'll take a good long run like that for a HUGE confidence booster.
On Saturday, I left to drive the 7 hours to Louisville. My buddy, Josh, was going to go with me but ended up not being able to go. Then, I asked Tom to go, but he couldn't either. So, it ended up being a solo trip. Now I have to tell you about the incredible couple that totally let me crash their home for the night.
I met Neil last year at Ironman Louisville when Jennifer and I were volunteering. We just happened to be working together in the finish shoot, so we got a chance to chat it up a bit. He was planning on doing Ironman Louisville this year, so we were instantly buds. He lives there in Louisville and said, "When you come up next year, let me know, and you can stay at our place." Well, I don't know if he really planned on my taking him up on that offer, but I did.
Not only is he super cool, but his wife, Brooke, is too. She's in a band with her brother, and I got to listen to a couple of their songs as they played at a pizza joint close to his house. They have a really nice home WITH A POOL! Neil and I planned out the next day. He was going to meet me at a gas station about 30 miles into the ride. I went to bed because it was already late, and I knew I had a tough ride the next day.
Here's what the course looks like. It is a "lollipop" route with two loops of the "pop."
Sunday, I woke up before the alarm totally excited! I drove the 15 minutes to downtown Louisville (it was sweet that they lived so close!), and found a place to park. The first 10 miles of the course are flat as a pancake along River Road, so, in order to speed the day up and get to my long drive back to Atlanta, I parked 6-8 miles already out on the course.
I recently put a hitch on the back of the Civic so that I didn't have to drive the gas-guzzling 4-runner everywhere to ride. I think it looks pretty sexy, right?
Gotta have directions!
After the required pre-ride pic, I headed out.

My goal was to really test my legs and the hills to see how I could handle everything. My race day goal is to average 18mph, and so I thought I'd see how close to that I could get. Well, the whole course was exactly how I expected...tough. I wasn't surprised, and I don't feel like anything out there is worse than the hills of ATL. Actually, I feel like they are quite a bit tougher here. That is the good part. I know I can handle it.
At mile 30, I arrived at the gas station at the EXACT time that Neil drove up. How's that for perfect timing? My average was 18.3mph, and I was feeling fantastic. He went to pump up his tires, and nothing worked! In fact, the air out of BOTH tires came out, and we discovered that the valve stems had been ripped off. I'm pretty sure that the pump he was using was tweaking the stems. We had some spares, and I just so happened to have a schader to presta adapter. I didn't want to use up my CO2 cartridges as I still had a long way to go, so, we did something that seemed a little sketchy. We used the gas station's compressor! It worked very well without any trouble. As we road off together after the 30-minute stop, it just wasn't meant to be, because Neil had another flat! So, without any spare tubes, he headed back to the car while I continued on solo. It was a major bummer because we were really looking forward to riding together. Maybe next time.
So, back to the course. It really is a most beautiful ride. The whole time, I kept saying, "This is BEAUTIFUL!" I can't wait till I actually ride it on race day when the course is covered in other racers. Finally at the top end of the "pop," I turned back towards Louisville. There's a sign that says, "33 miles to Louisville," and I thought, "That's not so bad!" Well, I'm not sure what happened. I don't know if my legs were still tired from the 15-miler on Friday, or I went out too fast or if I didn't do my nutrition very well or what. There might have been a slight head wind on the way home that slowly drained and demoralized me, but I hate making excuses. It was a tough ride back. I just watched my average drop and drop and drop. There wasn't much I could do. I hadn't planned on doing the second loop, but there was no way that I could have handled it. Finally, after just over 4 hours of riding, I made it back to the car with 74 miles with a 17.8mph. To be honest, I felt like it was a good ride, although there was no way I could have done the second loop OR RUN A MARATHON after that! After thinking it through, I still feel pretty good about the day and know what I need to do, but you may not agree, so here goes nothing.
I think I need to switch my crank! For those of you that aren't cyclist/triathletes, here's what a crank is...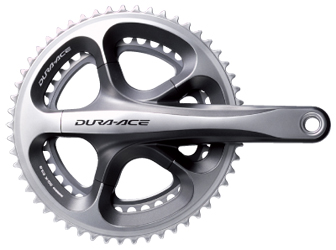 Now my crank on my Tri bike is the one above and is a standard crank. The crank on my road bike is a compact crank which basically means that it is easier to climb hills. I didn't have trouble climbing any of the hills in Louisville, but I wasn't able to "spin" up them either. I believe this is why my legs pooped out on me, because they had no break whatesover. Either I was hammering it downhill or grinding it out, even in my granny gear, up the hills. This tells me that I need to do the switcheroo and get that compact crank on my Tri bike.
I'm riding the
GA-400 Century
this sunday with Tom, and hopefully I'll have the crank switched by then as there are supposed to be quite a few hills on this course.
Sorry for the long post, and thanks for reading!